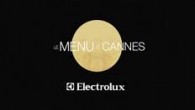 We helped our good friends at FMG London make a great project for Electrolux and MSN.
The idea was to film an international cookery contest , pitting two teams in two cities, Moscow and Paris to win the honour of preparing a meal for the belle monde of world cinema, a.k.a the Cannes Jury featuring no less than luminaries like Robert de Niro and other legends of the silver screen.
Our teams in Paris and Moscow helped the visiting UK director get all the angles and the highs and lows of this culinary contest.