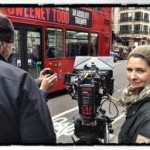 Rubinrot is a feature film based upon the bestselling German teen novel of the same name.
Featuring a time cheating teen as she whizzes across time and space, the film promises to be a big success.
We line produced the London part of the shoot for a fantastic team from Berlin and Munich and shot in all manner of iconic London locations during a hectic shooting week.